Is Website Design Really That Important?
Absolutely yes.
Whenever you're out to meet someone new – whether it's for a personal matter or a new client, you always want to make a great first impression, right? You shouldn't treat your website differently. After all, in today's world, your website is basically your store front.
It is the immediate reflection of your business. Think about this: Have you ever browsed a website and stayed longer than what you intended because you were drawn by its design and layout?
Your website should be like that. It should have something to pique the interest of your visitors. Some elements that will "wow" them.
So is website design really important in a business? YES, because it is the face of your brand.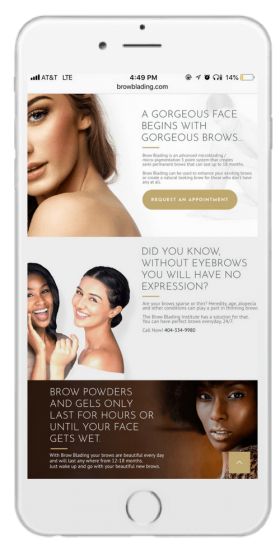 Our Boise Web Design Services Can Help Grow Your Business
This Is How We Do It:
Grow and build a solid base of followers
What's the use of having a fully functional website if the design will not help you retain your customers? You have probably come across some websites whose design are so great that you shared it with other people. Some websites have that effect, right?
When your website provides a great user experience, people will most likely to remember and recommend your business with other people. And don't underestimate the power of word-of-mouth. You can gain more traffic and attract new customers with it. We will build a website that will showcase what you offer using elements that will provide the best user experience.
Increase your social media presence
How is web design related to social media? Simple. If you're website offers intuitive social media buttons, then it will be easier for your visitors to share your website's links on their social media profiles. The higher number of shares you get, the more people will see your links.
Not only will you reach new audiences, but being shared in social media will also boost your social signals which of course, affects your search engine rank indirectly. We can help you build a website that can go viral by providing easy to share web page designs.
Make your website responsive
Fun fact: Over 50% of global online searches is done using mobile phones. Gone are the days when websites simply shrink when you use your smartphones. Do you remember pinching and zooming every side of the whole web page trying to find exactly what you're looking for? Today, that is no longer the case.
As Google launched its new search engine algorithm named as "Mobilegeddon", mobile responsiveness has never been this important. You need to make sure that your website will load correctly in all devices, no matter what the size is. We will create a responsive web design to make sure that your website's traffic across all devices will not be wasted.
Deliver an awesome user-experience
You should always remember this – you are not the only business that customers can have a deal with. You have tons of competitors out there waiting in line to steal your potential customers. Don't give them the chance to do so. Ensure that your customers will go through the buyer's journey in a convenient way.
Your website structure should be easy to navigate. If it takes so long for the users to find what they are looking for or do what they want to do in your website, it will surely end in high bounce rate and will decrease your conversions. We will ensure that your website has an organized navigation, structure and layout so encourage more interaction with your customers. Also, this will make it easy for your visitors to find what they are looking for.
Want A New Design You'll Love? Get In Touch Today
Sample Sites We've Created
Contact Us Today For Your Free Consultation